Find the Best Fitness Training to Fit Your Needs
We're more than just a private personal training studio! We enjoy working with clients of all ages but fitness over 40 is our passion and weight loss over 40 is not impossible. Check out our partnerships and services offered below.
Personal Training

Private and semi-private training sessions are led by one of our certified Master Trainers at our 9,000 square foot personal training studio. Training Sessions are personalized to fit every clients need and may include:
Stretching
Cardiovascular
Strength Training
Core Exercises
Nutritional Guide
Accountability Goals
Be prepared to experience exercises that you've never heard of. Exercise should be fun and interesting and that is exactly what we strive for with every client! Click for a Free Consultationtoday and we'll be glad to get you started!
Small Group Training

Studies have shown that couples and friends who are active together are almost three times more likely to succeed in their efforts! Small Group session are one of the hottest, most popular fitness programs available. It's not just about losing weight it's about striving to be in the best physical condition you can be in. Group training sessions are typically 30 minutes long and consist of 3-6 people.
Check out our latest group training classes today!
Semi Private Training

If you want an in between option between personal and small group classes, then semi-private is the perfect option for you. Designed for 2 people, this option is ideal for spouses, siblings, or best friends. There is nothing better than seeing someone close to you going through the same healthy, life changing fitness journey than you. Lose weight and look good together-all with a 30 minute program.
Kaliente Dance Fitness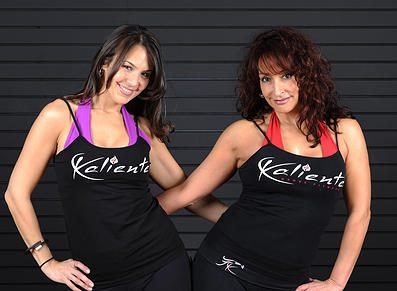 We are excited to announce that we have partnered with Kaliente Dance Fitness!
Kaliente Dance Fitness is an exhilarating 60 minute cardio workout that will have you sweating, smiling and coming back for more! The high intensity classes offer people an alternative method to burning calories, staying active and most importantly boosting ones self-esteem.
Kaliente Dance Fitness incorporates music and dance styles from all over the world. Aside from incorporating the highly popular Salsa, Merengue, Bachata, and Reggaeton, which play a big part in the classes, Samba, Soca, Hip Hop, Polynesian dancing, and others are also fused into the dance routines. Click Here for their class schedule! Never been to a Kaliente class? Your first class is always free! You'll be hooked after just one!